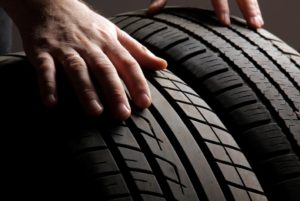 When it's your time to buy tires, you'll be faced with a lot of different options and prices. It can be confusing and even overwhelming…but it doesn't have to be. Listed below are some ideas to make the buying process a bit more informative.
To choose the right tires for your vehicle, consider this advice
Were you happy with your last set of tires? Were they good as far as ride quality, noise level, steering response, handling? If you answered "yes" to all those, then your choice is an easy one — go with the same or similar tires you had before. Remember, your car was engineered for a specific size and width of tires, and any serious deviation can result in changes in handling, braking performance and even speedometer readings.
Let's Break it Down Farther
Passenger tires (also called touring tires) are a great choice for family sedans, minivans and crossovers. They offer predictable handling, a smooth ride, minimal road noise and good stability. They use a tread compound that's designed for long tread wear and excellent all-weather traction, and can be found at a variety of price points.
Winter tires can give you a real advantage when the weather's snowy and nasty (which very seldom occurs in our area). They are designed using a tread compound that stays flexible in cold weather for greater traction, and have an aggressive tread design that cuts through snow and slush causing it to dig in. Winter tires should be changed, however, when temperatures rise above 45 degrees — the softer rubber wears very quickly in warmer weather!
For most drivers, all-season tires are an excellent compromise. They perform well in wet weather and offer a good ride and handling with low noise levels, but can be compromising when the snow gets deep.
All-terrain tires are a good choice for pickups, SUVs and crossovers that might occasionally go off road. They are designed with a tough tread compound and tread pattern for off-road traction in mud, sand or gravel, while still offering a good ride and handling the highway.
Drivers of sports sedans and coupes love performance or UHP tires for their precise handling properties. Unfortunately, the soft, "sticky" rubber of UHP tires means a short tread life and most don't offer a treadwear warranty.
It's Up To You
The decision will ultimately be up to you. However, you don't have to be alone in the decision-making process. Postle Tire Barn's tire professionals can assist you in making the right choice. With over 12,000 new and used tires in stock, there is a great chance we will have what you're looking for.
Postle Tire Barn is a family owned tire and auto store and has been serving the Tuscaloosa and West Alabama area for more than 35 years.