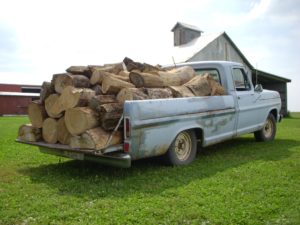 How can you tell how much of a load your vehicle's tires can safely carry?
Most of us have seen vehicles driving down the road that look like they are carrying way too much weight. Indeed, most of us have probably also seen a motorist stranded on the side of the road with blown out tires while transporting a really heavy load. So, how can you tell how much of a load your vehicle can safely carry?
Where to find the information
The information can be found on the sidewall of your tires. Almost all passenger, light truck and SUV tires have stated on the sidewall the maximum carrying capacity of each tire. For instance, a 2014 Ford F-150 comes with original equipment tires which will support 2200 +/- pounds of weight each. If you're carrying a somewhat heavy load in this F-150, as long as it doesn't exceed 4400+/- pounds (the weight capacity of the two rear tires), your tires should support the weight just fine.
Every Tire Has a Carrying Capacity
Every tire made has some sort of carrying capacity associated with it. The capacity might be stated as a ply rating or a letter rating (A-N). The tires on your vehicle, farm tractor, utility trailer, riding lawnmower or even your wheel barrow will state the weight the tire was made to withstand. If a ply rating or a letter (A-N) appears on the side of your tire versus the numerical weight, you can search the internet and find the carrying capacity very quickly.
One thing to remember is the weight capacity of your tire is the capacity of each tire. The F-150 mentioned in the example above has a weight capacity of 2200+/- pounds for each tire. Therefore, the weight capacity of the tires for entire vehicle is 8800+/- pounds. Eighteen wheelers might have tires that can carry 6000+ pounds of weight each, or a total weight capacity of 108,000 pounds (or 54 tons) for the entire vehicle.
It is very important to know what the weight capacity is of your tires, and to be sure not to underestimate the weight capacity you may need if you occasionally haul heavy loads, or tow a trailer of some sort.
Questions?
If you have questions about what type of tire you might need on any vehicle you might own (including utility trailers), call or come by Postle Tire Barn. You can also email us at info@postletire.com.
Postle Tire Barn is a family owned tire and auto store and has been serving the Tuscaloosa and West Alabama area for more than 35 years.