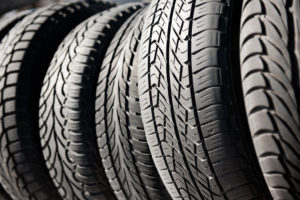 How long should a set of new tires last? There are so many right answers to this question. And, there are lots of wrong answers.
The best "correct" answer depends on how your tires are maintained. Most passenger tires for cars and SUVs will come with a mileage warranty from the manufacturer. For instance, a new set of Michelin, Cooper or Toyo passenger tires might have a limited mileage warranty of 50,000 miles or more.
Limited Mileage Warranty
The key word in the mileage warranty is limited. The mileage warranty will state that you will get 50,000 miles (or whatever the warranty says) from these tires if you maintain them properly. Proper maintenance consists of:
registering your tires via serial number with the manufacturer
rotating your tires at recommended intervals,
keeping the alignment of your vehicle within manufacturers specifications,
maintaining the proper air pressure in your tires, and
any other basic maintenance required by the tire maker.
If the above list of maintenance items are not followed, the tire maker is not responsible for a tire wearing out before the mileage warranty expires.
Things that will void your warranty
For instance, after owning your tires for a period of time, one of the front tires has an outer edge worn down to the steel belts: this is a sign your vehicle's alignment is out of specs and a tire manufacturer will not warrant a tire due to alignment wear.
Another example might be you have put 25,000 miles on a new set of tire. You have 90% of the tread left on your rear tires, however, your front tires are already in need of replacement. If your tires have never been rotated, your warranty won't apply.
New Tires with no milage warranty
Most high-performance tires will not come with a mileage warranty due to the tire being constructed from a softer rubber compound. These tires are made for performance and handling and not so much for extended mileage. Numerous vehicles with high performance tires will have different size tires on the front of the car and the rear of the car. Therefore, these tires cannot be rotated.
Virtually all off-road tires (trail tires and mud tires) will not have a mileage warranty. These tires are made to grip what nature has to offer off of the road. Extended hi-way mileage is not to be expected from off-road tires.
Road hazards are another item not covered by tire manufacturers. However, most tire centers and dealers offer their own road hazard warranty at an additional cost.
Mileage warranties are pro-rated
Let's say everything is perfect: you bought a set of tires with a 50,000-mile warranty. You rotated the tires as recommended, proper air pressure has been maintained and your vehicle's alignment is fine.  You only get 40,000 miles out of the tires. It's time to replace them. The warranty will be pro-rated by the manufacturer if you buy another set of tires of the same make. Your warranty will supply you a credit of 20% toward the purchase of another set of tires since you only received 80% of the miles you were promised.
One way to avoid losing a tire warranty is to regularly have your tires rotated and inspected by a tire professional, such as the ones at Postle Tire Barn. Routine inspection can and will catch any irregular tire wear that might be in the works, and you will have the opportunity to remedy any situation that might occur.
Questions? Contact us
Postle Tire Barn is a locally owned tire and auto repair facility located in Tuscaloosa, AL. We have been serving the tire and automotive needs of West Alabama for more than 35 years. If you would like more information about our services, email us at info@postletire.com or feel free to call us at 205-391-0062.