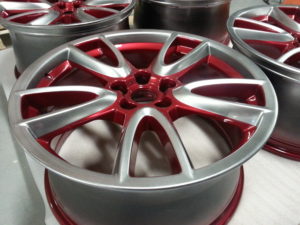 For a number of months, Postle's Tire Barn has been preparing for and installing a system which will allow us to powder coat wheels and other items made of metal or aluminum. It is an exciting time for us as we can now announce that our Powder Coating system is up and running.
For those who may not be familiar with powder coating, it is a type of coating used on metals such as steel or aluminum wheels, other automobile and motorcycle parts, and even bicycle parts. It can also be used to refurbish old metal lawn furniture, household appliances and just about any type of metal object or hardware you can think of.
Powder coating is applied as a free-flowing, dry powder. The main difference between a conventional liquid paint and powder coating is that the powder coating does not require a solvent to keep the binder and filler parts in a liquid suspension form. The coating is typically applied electrostatically and is then cured under heat to allow it to flow and form a "skin".
Powder Coating allows us for example, to match a vehicle's wheel color to its paint or trim color. If you happen to have a red car with black trim, we can powder coat your wheel to match either one. Powder coating allows us to custom match your vehicles wheels to your vehicle's color. No matter what color combination you want, we can create it for you.
Powder Coating is typically more resilient to peeling and scratching than normal paint since the powder coat paint is electrostatically applied to the surface, and then baked at approximately 400 degrees Fahrenheit to finish the sealing process.
There are many other uses for powder coating. Old fashioned, metal lawn furniture can be given a new life by sandblasting the old surfaces' paint and rust and applying a new powder coat that will last another life time.
Metal office furniture can be given a new life after spending a few minutes baking at 400 degrees with a new electrostatically applied powder coating.
If you can think it, we can powder coat it (as long as it's made of metal), and the colors are virtually unlimited.
For more information, give us a call at 205-391-0062 or email us at info@postletire.com.