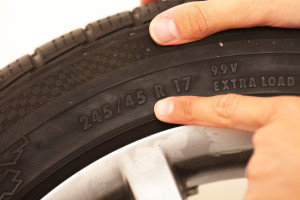 Most people don't know the exact size of the tires they have on their vehicle. Most people know the diameter of their wheels, such as 15 inches, 16 inches, 17 inches etc. However, when it comes to knowing the exact tire size you have on your vehicle, and what all those numbers mean, very few people know. To make it more confusing, some vehicles with high performance suspensions have different size tires on the back and the front of their vehicle.
It's very simple to find out what size tire you have. Your tire size is listed on the sidewall of your tire. Most newer vehicles have their tire size listed on a placard posted inside the driver's door. You can also search the internet for your vehicle's tire size.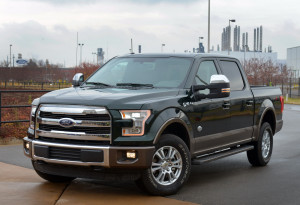 What do all the numbers and letters mean? Let's look at an example. Let's say you drive a 2014 Ford F150 XLT. The original equipment tire on your vehicle would be a P265/70R17. "P" stands for passenger tire, even though this particular vehicle is a truck, the the tire designation is a passenger tire. 265 is the section width of the tire in millimeters, where the sidewall of the tire bulges at it's widest point (usually at the middle of the sidewall). 70 represents what is called the aspect ratio (% of sidewall height to section width) meaning that the sidewall is 70% as tall is the tire is wide. R stands for radial and 17 represents the diameter of the wheel).
You might also occasionally see the letters "M + S" on your sidewall. This indicates that the tire has a mud and snow tread design.
The same 2014 Ford F150 in their Platinum Series comes with a tire size of P275/55R20. The tire is a (P) passenger tire, with a tread width of 275 millimeters, the sidewall is 55% as tall as the tread (section width) is wide, and the wheel diameter is 20 inches.
The same 2014 Ford F150 in their ZVT Raptor series carries a LT315/70R17. The LT stands for Light truck tire, and by now, you can figure out what the rest of the letters and numbers stand for.
Low profile tires are tires in which the aspect ratio (sidewall height to section width) is lower than 70%. As the aspect ratio becomes smaller, the sidewall of the tire becomes shorter, or lower, hence the name, low profile tire. A tire with an aspect ratio of 40 has an extremely short (low) profile while a tire with an aspect ratio of 75 is an extremely tall tire.
Other lettering used in tire sizing has to to with speed ratings and load carrying capacity. A 2015 Chevrolet Corvette comes with P245/40ZR18 (93Y) tires on the front and P285/35ZR19 (99Y) tires on the rear. The letter Z in the tire size signifies the tire's speed rating. A "Z" rating means the tire is built to withstand speeds in excess of 151 miles per hour. Exotic vehicles such as the Corvette and other upper end performance luxury vehicles and sports cars usually have additional speed ratings that classify them to perform at certain speeds, (W & Y are the most popular). The numbers 93 and 99 signify the tires load carrying capacity.
Confused? Hopefully not. Listed below are all the speed ratings and load carrying capacity ratings you might see on your particular vehicle's tires:
Speed Ratings
M- Up to 81 mph
N- Up to 87 mph
P- Up to 93 mph
Q- Up to 99 mph
R- Up to 106 mph
S- Up to 112 mph
T- Up to 118 mph
H- Up to 130 mph
V- Up to 149 mph
W- Up to 168 mph
Y- Up to 186 mph
Z- See above
Tire Load Carrying Capacity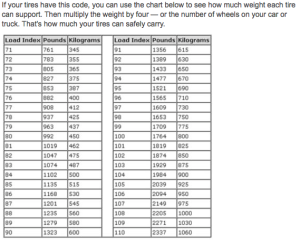 The most critical thing to remember when dealing with a tire's speed rating is that if your vehicle was built to travel at and maintain speeds of a certain level, you must keep tires on your vehicle capable of maintaining those speeds. For example, if you replace a Z rated tire with an H rated tire, the tire's speed rating just went from being able to maintain speeds in excess of 151 miles per hour to only being able to maintain speeds of up to 130 miles per hour. Making an error in judgement like this could be deadly, and most reputable tire centers will not install tires on a vehicle at a lower speed rating than what the vehicle's original equipment calls for.
If you have questions about your vehicle's tires, call or email Postle's Tire Barn. Postle's has been serving Tuscaloosa and West Alabama in the tire and automotive business for more than 35 years. Your safety is always our number one objective.