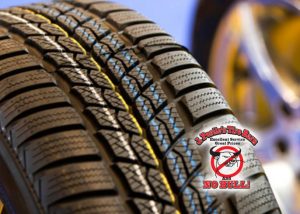 Should we pay attention to our tires as close as we monitor our gas gauge? Well, maybe not that close. But if your tires are having issues, your whole vehicle is in jeopardy. Here are three common problems and how you can avoid them.
Irregular Wear:  
First thing is to check the tire tread wear. Tires will wear down with age and use. But the thing to keep an eye on is if they are wearing unevenly or faster than they should be. That impacts fuel efficiency and increases your chance of blowing out a tire.
Tires can wear unevenly because of several reasons:
Tires are over-inflated or even un-inflated. Your tires air pressure is calculated specifically for your car and braking system to distribute the weight of the car. So tire pressure needs to be checked regularly.

Your vehicle is out of alignment. This will cause tires to wear unevenly. This can happen simply but hitting a pothole or a curb.
You will not notice a difference right away with these tire problems but over time you will see that your tires are wearing unevenly. Or hopefully, you don't experience tire failure.
Punctures
If your tire gets punctured you will most times know immediately. But you could also pick up a nail which will slowly deflate your tire. Whether it's a large puncture or a slow leak you will need to have this repaired right away. Sometimes a large puncture can be repaired, but large punctures will usually end up in the purchase of a new tire. A slow leak usually can be repaired but is important to have it fixed as soon as possible because moisture can cause decay of the steel belt inside the tire.
Cracks
Tires can also crack due to weather conditions and prolonged exposure to harsh chemicals.
Take care of your tires and they will take care of you. Regularly check your tire pressure and dread depth to keep you safe and on the road! Visit Postle's Tire Barn and we would love to check your alignment to make sure you are getting your money's worth out of your tires!
Contact Us
Postle Tire Barn is a tire and automotive repair shop located in Tuscaloosa, AL. We've been serving the automotive news of the West Alabama area for more than 35 years. We are family owned and operated. You can reach us by phone at 205-391-0062 or email us at info@postletire.com.