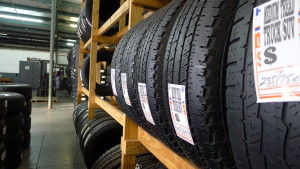 If everything were to work out perfectly, all of the tires on your vehicle would wear evenly, and need to be replaced at the same time. It's rare for things to work out perfectly, particularly as it pertains to the items on your vehicle that suffer the most from normal wear and tear.
Occasionally, you may need to replace one or two of your tires at a time either due to financial circumstances, tire wear, or a mishap which caused one or two of your tires to need replacing. If you find yourself in a situation of needing to replace one or two tires, there are a few things to consider and remember.
If your circumstances require you to replace one or two tires, it is important that you select tires that match, or that are as close as possible to the car's remaining tires. Ideally, that would mean replacing your old tires with the same brand and model as the tires coming off. That is not always possible due to availability issues, financial issues and any number of other reasons. If the identical make and model of your tires are not available, you should find a tire as close to ones you have— the same size, tread pattern and design. For instance, if you have all-season tires on your vehicle, you want to replace the one or two tires which need replacing with an all season tire and not a tire with standard tread. You also do not want to mix run-flat tires with standard tires, or radial tires with non-radial tires. Why, you ask?
All tires are designed for different handling situations and traction, and are intended to work together as a set. Mixing sizes, tread patterns and designs can turn your vehicle into one that has unpredictable, jittery or "squirrelly" handling. Braking and road holding capabilities can also be affected, and that can be dangerous in a panic stop or other emergency situation.
If you have to replace a pair of tires and decide on the same brand and model as the others, your new tires should go on the rear. This might seem like the opposite to some since logical thinking says you want your best traction on the front, right? However, if you mount your new tires on the front of your vehicle, you really do have more traction there and the rear tires might tend to slide due to less traction, particularly on wet pavement.  Your new tires easily disperse water while the older tires, due to more wear, may not be able to funnel water as well causing your vehicle to hydroplane.
The minimum tread depth on any of your tires is 2/32nds of an inch. Your tires are made with what are called wear bars, and at 2/32", you should be able to plainly see them. If you have questions, feel free to call Postle Tire Barn at 205-391-0062, or email us at info@postletire.com. If you're thinking it might be time for a set of tires, or time to replace one or two, the professionals at Postle Tire Barn will answer any questions you may have, and recommend a suitable replacement for your vehicle.
Postle Tire Barn has been serving the Tuscaloosa and West Alabama area for more than 34 years. With over 12,000 new and used tires in stock, we're sure to have the tires that will fit your vehicle and your budget.