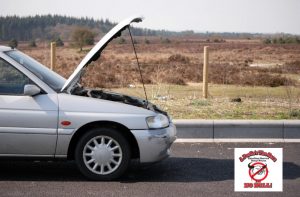 This is the time of year when we drive our vehicles more than usual. Along with the normal day to day trips to work, school, shopping, and other routine outings, we might hit the road a few times to visit friends and relatives during the holidays. Here are a few things to get checked out before packing your car this holiday season.
Check Your Tire's Tread Depth
All tires made today have what are called "wear bars". They are a set of bars that run across the width of the tread of the tire that signifies when a tire needs to be replaced. If the tread level is close to or at the wear bars it is time to replace your tires. Another thing to look for is irregular wear on your tires. Significant wear on the shoulder of your tire can point to an alignment problem the needs to be addressed. Cupping or other irregular wear issues also need to be addressed. Being stranded on the side of the road during the holidays due to tire failure is not the way you want to spend your time.
Check Your Tire Pressure
Your tires were designed to be inflated at a certain PSI (pound per square inch). Your vehicle's correct tire pressure can be found on most vehicles on a placard inside the driver's door. Too little tire pressure can cause your vehicle to ride sluggishly and can even cause your vehicle to pull to one side or the other. Low tire pressure can also cause your gas mileage to suffer. Correcting your tire pressure is an easy fix, and will make your vehicle ride like it was designed to.
Check Your Wiper Blades
If the view through your windshield is hindered when its raining due to worn out windshield wipers, it's time to get those replaced. Virtually any auto parts store will carry new wiper blades to fit your vehicle and most will install them for you. It's another easy fix to make your holiday driving safer.
Change Your Oil- Check Coolant Level
Most of today's vehicles recommend changing your oil every five thousand to seventy-five hundred miles. It is a routine maintenance requirement that will keep your vehicle's engine lubricated properly so it will continue to operate as it should. Engine oil can wear out just like any other item on your vehicle and changing your oil at the proper time will ensure the life of your engine. Checking and topping-off your coolant level will prevent your vehicle from over-heating. It is also highly recommended that you check your coolant level for the proper anti-freeze mixture. If you are traveling anywhere where the temperature will be below freezing, having the correct antifreeze mixture in your radiator is a must.
Have Your Brakes Inspected
Your vehicle's braking system is one of the most if not the most important safety feature on your vehicle. If you hear noise of any kind coming from the brake area, it's time to have your brakes checked. Grinding, squeaking or squealing, pulling to one side when braking are all signs to have your brakes checked immediately.
Check Your Engine's Belts
In previous years, a car or truck might have three or four "fan belts" to make the equipment under your hood function properly. Today's vehicles usually have just one serpentine belt, or at the most, two belts. If your vehicle has one belt and it happens to wear out or fail, your vehicle will not run any longer. If your belt shows signs of wear or cracking, its time to change it out.
Carry A Small Emergency Kit
Having a small emergency kit in your vehicle will assist you if you happen to have to pull to the side of the road. An emergency kit might contain road-side flares, jumper cables, motor oil, coolant, a first aid kit, a blanket, a flashlight and a toolkit with screw-drivers wrenches and other items. Having a kit like this will assist you in getting your car back on the road.
Vehicle Inspection by a Professional
The easiest way to make sure your vehicle is road-ready is to have it checked out by a professional such as the ones at Postle's Tire Barn. Postle's will check out everything listed above and then some so you will be certain your vehicle is ready to hit the road for the holidays.
Contact Us
Postle's Tire Barn is a family owned and family operated tire and auto store located in Tuscaloosa, AL. We've been serving the West Alabama area for more than 35 years. Feel free to email us at info@postletire.com or give us a call at 205-391-0062. We are located on Jug Factory Road in Tuscaloosa behind McDonald's.