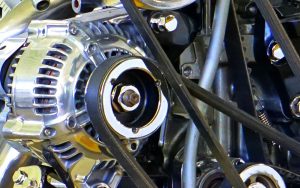 If you are over the age of 40, you probably remember your car or truck having two or three "fan belts". Although only one of these belts actually operated the fan, it was a catch-all phrase for all the belts under your hood.
Different Belt Types
You might have had a power steering belt, an alternator belt, another belt that controls the air conditioner and yet another for the water pump. Most of these belts were also commonly referred to 'V Belts" because of the way their rubber teeth are tapered. The advantage to the older configuration of "fan belts" is that if one of them were to break, you still might be able to make it home or to your destination. The disadvantage of individual belts is that fact that there are (were) multiple to change, are a bit trickier to get the tension correct and can rotate on the pulley under a hard-stress load.
Belts on Today's Vehicles
Most of today's vehicles come with only two "fan" belts: a serpentine belt and a timing belt. (Hardly anyone refers to them as "fan belts" any longer).
Serpentine belts are responsible for power steering pumps, cooling fans, injection pumps, air conditioning, and a variety of other functions depending on your vehicle. Sometimes serpentine belts do it all.
With one long snaking path, the serpentine belt winds in and out of several different components in your vehicle. It is made of extremely durable rubber with a smooth side controlling some parts and a ribbed side controlling others. If this belt breaks you will hear a squealing noise, your engine may overheat, and your power steering will stop working.
Timing Belts connect the upper engine to the lower engine. They are often called camshaft belts because they control the camshaft. Camshafts control the opening and closing of valves. Timing belts are equipped with specifically spaced teeth to control the frequency of valve openings and closures.
A bad timing belt can cause the valves to remain open and be struck by the pistons. This can cause a lot of damage, so you want to make sure you know the signs of a bad timing belt. Common signs include engine misfires, leaking oil, trouble starting the engine, and a ticking noise.
These belts are important to the operation of your vehicle and will give you plenty of signs that they need replacing. If you want to keep your belts running smooth, give them a quick check for cracks and wear. You can also consult your owner's manual for estimated lifespans on your belts or take your vehicle into your local auto shop for inspection.
Be sure to keep your belts in good operating condition to ensure your vehicle operates at it's intended level of performance.
Contact Us
Postle's Tire Barn is a family owned and family operated tire and automotive repair shop located in Tuscaloosa, AL. We have been serving the West Alabama area for more than 35 years. For more information, email us at info@postletire.com.