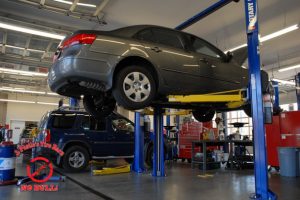 Car Dealer vs. Independent Shop?
We'd like to think, since we are in the automobile repair business ourselves, that as an independent, family-owned business, we can offer some automobile repair services for you and provide you with certain advantages over taking your car to the dealer for repairs.
What do Consumer Reports say?
A recent Consumer Reports survey agrees with us. Their latest survey of "repair satisfaction" states many advantages of using an independently owned repair shop to have your automobile repaired.
Here is their report.
"For most of us, taking the car to the mechanic ranks right up there with getting a root canal surgery. But there's a way to ease the pain. Our latest survey of repair satisfaction found that when your car is ailing, odds are that you'll be more satisfied with an independent repair shop than with a franchised new-car dealership.
Independent Dealers outscore Car Dealerships
Our annual survey of Consumer Reports subscribers found that independents outscored dealership service once again for overall satisfaction, price, quality, courteousness of the staff, and work being completed when promised. With few exceptions, the entire list of independent shops got high marks on those factors. The same couldn't be said for franchised new-car dealers.
The one automaker that outscored the independent shops was the electric carmaker Tesla, which earned high praise for its on-time repairs, courtesy, price, quality, and overall satisfaction.
But part of Tesla's success might be because it's new to the market, and it has a relatively small number of customers to satisfy compared with the established luxury brands. As the number of Tesla models increases—especially with the release of the Model 3 compact vehicle in a few years—we'll be watching closely to see whether its customer-friendly repair policies, which include providing service loaners and flatbed tow trucks, can keep pace with the brand's growth.
The survey says…
The survey, conducted by the Consumer Reports National Research Center, was based on subscriber satisfaction with repairs on more than 121,000 vehicles— 80,000 of which were repaired at franchised dealers and more than 41,000 at independent shops.
Luxury and upscale brands topped the chart among franchised new-car dealers, with Buick, Lincoln, Cadillac, Lexus, Porsche, and Acura slotting in behind Tesla, in that order.
To be fair to mechanics at franchised dealerships, our respondents also reported being very satisfied overall with their repairs from top to bottom—despite trailing the Ratings of the independent shops.
Is it the better coffee, the putting greens, or the massage chairs that put premium dealerships at the top of the list? Not necessarily. There were also some disappointments involving prestige marques.
The biggest gripe was about the cost of parts and labor. Mercedes-Benz drivers, in particular, were much more satisfied with the price they paid at independent shops.
Also dinged for high prices were Jaguar dealerships as well as Mini dealerships that often share a service drive (and high prices) with an affiliated BMW dealership.
But if you own a BMW, Porsche, or Volkswagen, bargain hunting for a mechanic might not pay off. Owners of those brands were equally satisfied with the price paid at dealerships and independent shops. (To reduce the visits for necessary repairs with your next car, but sure to check our car reliability ratings.)"
Not all the same
As with any business entity, all car dealerships are not the same. The same is true for all independent repair shops. We are not all created equal.
Postle Tire Barn is a family owned and operated tire and auto repair business located in Tuscaloosa, AL. We have been serving the automotive repair and tire service needs of West Alabama for more than 35 years.