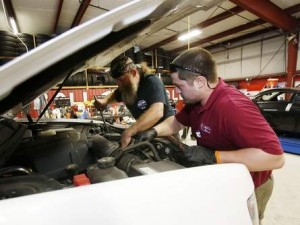 Adapted from The Tuscaloosa News:
With nothing but hand tools, Michael Edwards and Tyler Lauters scrambled under the hood of a 1979 Malibu Wagon, removing the nuts, bolts and wires to extract a small-block engine and replace it with a new LS engine. Edwards and Lauters, two Tuscaloosa mechanics, won the Car Craft Engine Swap Challenge at the fifth annual Holley LS Fest in Bowling Green, Ky., in September. They will be featured in Car Craft magazine next month.
The challenge was a race between two teams to see who could swap an LS engine into a previously running non-LS car the fastest. "(Holley Performance Products) supplied the vehicle and the motor, and we supplied the tools," Edwards said. Edwards and Lauters finished the swap in two hours and nine seconds and were able to crank the Malibu for the win. Edwards said they didn't know what model car they would be working with, but they knew it was a Chevrolet. In preparation, Edwards said they tested tools on his 1996 Chevrolet truck. Their plan was for Lauters to dismantle the engine from the bottom of the car while Edwards worked from the top.
Edwards and Lauters attribute their win over Will Meyst and Martin DeGumbia from Middletown, Conn., to preparation, focus, working well together and experience in mechanics. "Over the years, you pick up speed with repetition of doing it," Edwards said. "I just don't let the pressure get to me. Being a mechanic, if you get frustrated, you end up messing something up."
Edwards and Lauters have been working together for about six years at Postle's Tire Barn. Edwards works with breaks and front ends while Lauters works on wheel repair. Lauters said the two often work together on vehicle restoration projects on the side, which gave them an upper hand in the competition.
"Everything pretty much was smooth because we work so well together," Lauters said. The two had one more engine swap when they came home to Tuscaloosa. Edwards said he entered the contest for a chance to win the LS engine the team deposited into the Malibu at the Holley LS Fest. Edwards, a self-taught mechanic, replaced the old engine in his truck with the modern, more powerful LS engine he won in the challenge. It's equipped with numerous bolt-on LS parts from Holley, including an electronic fuel injection system.
He said it runs like a charm.